HeroesPortal.net presents the brand new Collectors Tourney (HoMM2).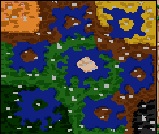 STARTING SAVEGAME
TOURNAMENT MAP
Tournament Master e-mail address (send your savegames here):
rimex08@mail.ru
Savegames are accepted until:
7th of November, 2017 (UTC+03:00)
Final results announced at:
14th of November, 2017 (UTC+03:00)
TOURNAMENT LINK
ADDITIONAL INFORMATION:
Welcome to the new Collectors Tourney.
1) This tourney is played for SPEED (the least number of in-game days) to equip any of your heroes with all 14 artifact slots. Magic Book also counts.
2) This tourney is played without any bonuses, everyone must use the same starting save.
3) YOU DON'T HAVE TO WIN THE SCENARIO!
4) Feuds* and Mines** are awarded according to the general rules.
5) The secondary victory criterion (if more than 1 players get the quickest result) is the sum of all hero Primary Stats with all artifacts worn.
Don't forget to specify your nickname, game version, tournament title and map title in your e-mail message to the Tournament Master!
Please make sure the specified nickname is the same as in your account on HeroesPortal.net!
Please make sure the e-mail message title is "Treasure Hunt Tourney 2"!
Best of luck to everyone!
*HeroesPortal.net internal insignia
**HeroesPortal.net internal insignia
P.S. General HeroesPortal.net rules, HoMM2 Offline Tourney rules.
P.P.S. Please make sure you are registered on HeroesPortal.net so you can specify your account name while sending the final savegame.