HeroesPortal.net presents The Knight of the Great Obelisk Tourney (HoMM1).
TOURNAMENT RULES:
The tournament is divided into 4 series, 4 competitions each. Overall competitions: 16.
The winner of all 4 series receives the status of the
Knight of the Great Obelisk
.
SERIES 1, COMPETITION 1.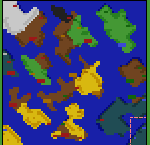 STARTING SAVEGAME
TOURNAMENT MAP
Tournament Master e-mail address (send your savegames here):
lovelass@abv.bg
Savegames are accepted until:
21th of November, 2016 (UTC+03:00)
Final results announced at:
23th of November, 2016 (UTC+03:00)
1) The victory condition is the least number of days to find the Ultimate Artifact.
2) Feuds*, mines**, arroba*** and rating are awarded according to the general rules.
3) Visiting Skeletons, Daemon Caves, Graveyards and Shipwrecks is prohibited.
4) The Ultimate Artifact must be dug with the full hero movement (the hero must be rested).
5) Please don't archive your savegame. The example of a properly submitted savegame: "Yourname.gm1", message topic "other-1_Yourname".
Tournament discussion
The player with the most rating after the completion of 1 series (4 competitions) gains a special status of
Knight of the Ultimate Wand of Magic
. The next 4 players after him receive Necklace +4, Broach +3, Ring +2, Bracelet +2, respectively. Also, the winner receives 4 Paladins, and the next 3 players receive 3, 2 and 1 Paladins respectively.
BEST OF LUCK TO EVERYONE!  
*HeroesPortal.net internal insignia
**HeroesPortal.net internal insignia
***HeroesPortal.net internal currency
P.S. General HeroesPortal.net rules are being currently translated, please keep track of Enrothian news.
P.P.S. Please make sure you are registered on HeroesPortal.net so you can specify your account name while sending the final savegame.
www.heroesportal.net/land/rules.php?type=main
www.heroesportal.net/land/rules.php?type=off1