HeroesPortal.net presents Main Tourney 2016 (HoMM1).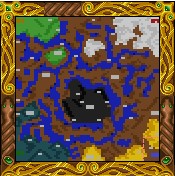 STARTING SAVEGAME
TOURNAMENT MAP
Tournament Master e-mail address (send your savegames here):
lovelass@abv.bg
Savegames are accepted until:
22th of November, 2016 (UTC+03:00)
Final results announced at:
25th of November, 2016 (UTC+03:00)
TOURNAMENT LINK
TOURNAMENT RULES:
1) The victory condition is the least number of days to complete the map standard VC.
2) All players registered on the Portal can participate.
Don't forget to specify your nickname, game version, tournament title and map title in your e-mail message to the Tournament Master!
Please make sure the specified nickname is the same as in your account on HeroesPortal.net!
ATTENTION!
Visiting Skeletons, Daemon Caves and Graveyards is prohibited.
Best of luck to everyone!
P.S. General HeroesPortal.net rules are being currently translated, please keep track of Enrothian news.
P.P.S. Please make sure you are registered on HeroesPortal.net so you can specify your account name while sending the final savegame.
________________________